Despite a bullish economy, the global uncertainties remain high with increased geopolitical tensions, protectionism on the rise, and political risks in Europe. Oil prices slowly rise fueled by a higher demand and OPEC growth restrictions thereby potentially dampening future airline profits as global airline and cargo revenue increase.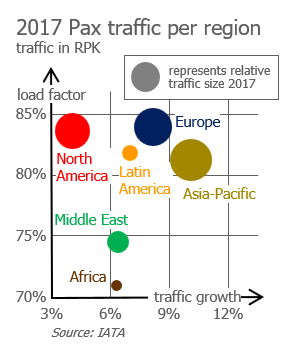 In our VZM Market Outlook 2018 for commercial aviation & maintenance we look back and provide our thoughts regarding future developments.
North American airlines still earn almost half of the world's profits with their European counterparts showing a strong increase in profitability throughout the year. Overall, 2018 is the 8th profitable year in a row representing the longest positive cycle during the last 25 years. However, the recent introduction of next gen aircraft and engines has not been entirely flawless and adversely affect airlines' operational performance. Maintenance, on the other hand, will continue to thrive assisted by the introduction of new technologies and the urge to adapt in order to successfully compete in an ever-changing world.
We hope you enjoy this 18th edition and look forward to your feedback and comments. The Market Outlook along with other VZM publications are freely available to subscribers of the VZM website at the Info Center. If you are not a subscriber, simply click the Subscribe-link. Subscription is free of charge and without obligation.
A hardcopy is available on request.