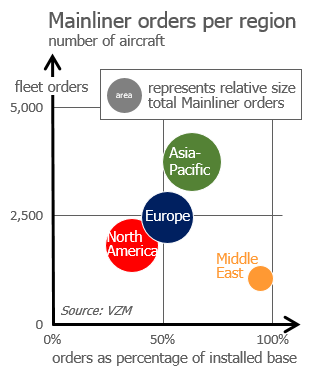 The world economy showed a moderate growth in 2015 driving airline profits to record levels partly due to a continued decrease in oil prices. Despite these positive trends, the cargo market remained weak, and with a recession looming, 2016 holds new challenges.
In our VZM Market Outlook 2016 for commercial aviation & maintenance we discuss the trends in aircraft and engine production as well as maintenance. Can the unprecedented levels in aircraft and engine production be maintained in view of airlines postponing retirements now that oil prices allow legacy aircraft to operate profitably? And will "big data" truly deliver the advertised benefits as the various parties hold diverging interests in owning and controlling the data generated by the new generation of aircraft and engines?
The Outlook is freely accessible for all subscribers to the VZM site in PDF format through our VZM Publications page. Subscription is free of charge and without any obligations. To become a subscriber of the VZM site and to have access to our Outlook simply click the Subscribe-link.
A hardcopy is available on request.