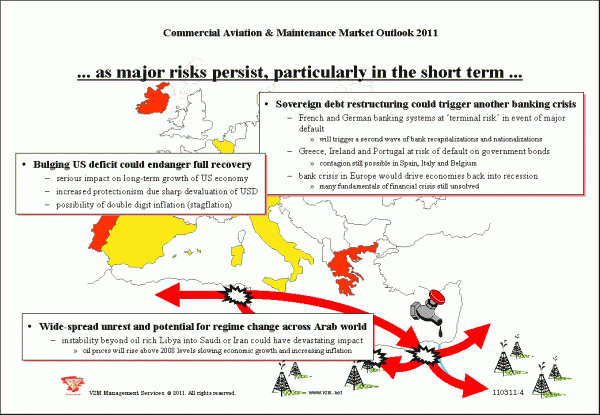 2010 brought light to the end of the recessionary tunnel. Financial markets calmed, modest growth returned, and airline revenues and yields perked up. IATA forecasts were revised upwards several times, and by year-end record industry profits were recorded. And so, clear sailing lied ahead for 2011.  Or so it seemed …
In the 11th edition of the VZM Commercial Aviation & Maintenance Market Outlook new trends are plot in the industry's path through a turbulent operating environment. It also looks back at predictions made over the past decade; some of which were remarkably accurate, others well off-base with what is known today.  New risks are examined, such as unrest in the Middle East, renewed sharp rises in oil prices, and potential new shocks to the financial system through sovereign debt defaults and unprecedented deficits in the 'West'. Yet robust growth in the BRIC and other 'emerging' economies promises expanding markets for the global aviation sector and rewards for those who successfully tap into these hot markets. We continue to live in a world with many uncertainties, where change persists and where nimble and flexible planning and organization will be key for aviation and MRO players to navigate their (often hostile) business surroundings.
The Outlook is freely accessible for all subscribers to the VZM site in PDF format through our VZM Publications page. Subscription is free of charge and without any obligations. To become a subscriber of the VZM site and to have access to our Outlook simply click the Subscribe-link.
A hardcopy is available on request.