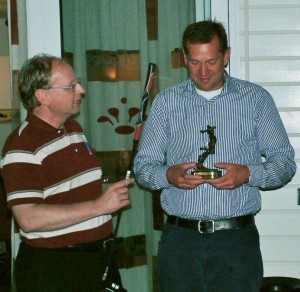 On the hottest day of the week – a tradition by now – the participants of the eleventh Dutch Aviation Open golf tournament did tee off just after one o'clock on September 8. After more than six hours of playing this year Onno Pietersma proofed to be the best with a 5-point margin to three equal ending runners-up. Hans Wareman's result was probably the most remarkable of the three as he ended last in the previous year round. Onno declared that he felt very motivated to have a heads-on challenge with a previous winner, which apparently helped him to become the smiling winner of the Hans Minnee Challenge Trophy.
Cees Melis hit the straightest tee shot and won the Nearest to the Centerline competition, bringing home a F16 model donated by Steve Netto.
In the clinic – with one of the smallest group ever –Nico Hemmerproofed to be the best. But as he had won the clinic before, he let Jaap Horsten, the number two win the price.
Visit the Dutch Aviation Open page to view photos, find all scores and read more about this year's tournament.