Leo van Rijn was clearly having his day when participating in the 15th edition of the VZM Dutch Aviation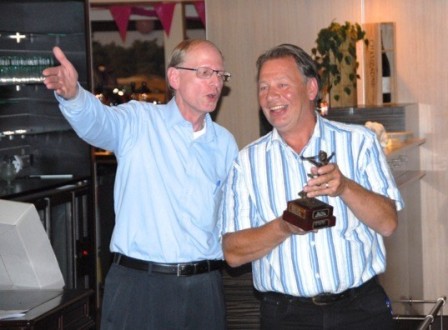 Open golf tournament on September 10. Not only did he strike the straightest ball, after several years being runner-up he won the 18-hole match and is the proud owner of the Hans Minnee Challenge Trophy for one year.
The number of participants was one of the highest in the history of the tournament hosted by VZM Management Services. Main reason was a larger number of people participating in the clinic. The winner of the clinic competition was Roger Meels, a clinic veteran who after several years of absence attended this year's golf day again, turned out to be the clear winner of the clinic competition.  
The splendid summer in Europe ended just few days before the tournament, so the participants had to cope with quite some water coming out of the sky. But there were also some very nice periods of sun during the match, so players were changing rain gears several times during the match. But no one let the weather spoil their day and once more all participants enjoyed the reunion and a nice day of golf.
Visit the Dutch Aviation Open page to view photos, find all scores and read more about this year's tournament.